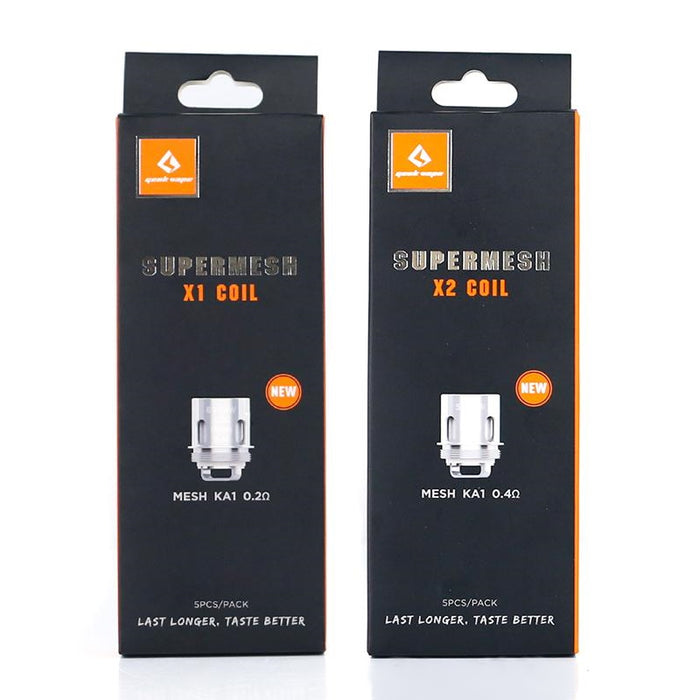 Geekvape New Supermesh Coils
Please log in to access wholesale prices.
If you don't have a Vape Traders account, please submit an application and we'll be in contact.
These coils are compatible with the following tanks:
Geekvape Cerberus, Aero Subohm Tank
Geekvape Aegis Legend Kit (not the Alpha tank version)
Coil Art Mage Subohm Tank
Eleaf Ello, Ello Mini, Ello Vate and Ello Duro Tanks
Geekvape Illusion Mini, Shield, Aero and Aero Mesh Tanks
iJoy Exo S and Exo X Tanks
Joyetech ProCore Aries Tank
Squid Industries Peacemaker Tank
Sigelei Slydr M and Kaos Subohm Tank
Smok Baby Beast, Big Baby Beast and Baby Prince Tanks
Teslacigs H8 Mini Tank
Vapefly Fantasy Mini Tank
Vaporesso NRG, NRG SE, NRG Mini and Cascade (with the adaptor) Tanks
Vaportech Ark, Morpheus SF and Flip SF Tanks
Vaptio Frogman Tank
Wotofo Flow and Flow Pro Tank
These are the newest version of the coils, replacing the older versions previously under Geekvape IM Coils.
Specs:
New Supermesh X1 0.2ohm: 60 - 70W


New Supermesh X2 0.4ohm: 50 - 60W
What's in the box:
5 x Geekvape New Supermesh Coils