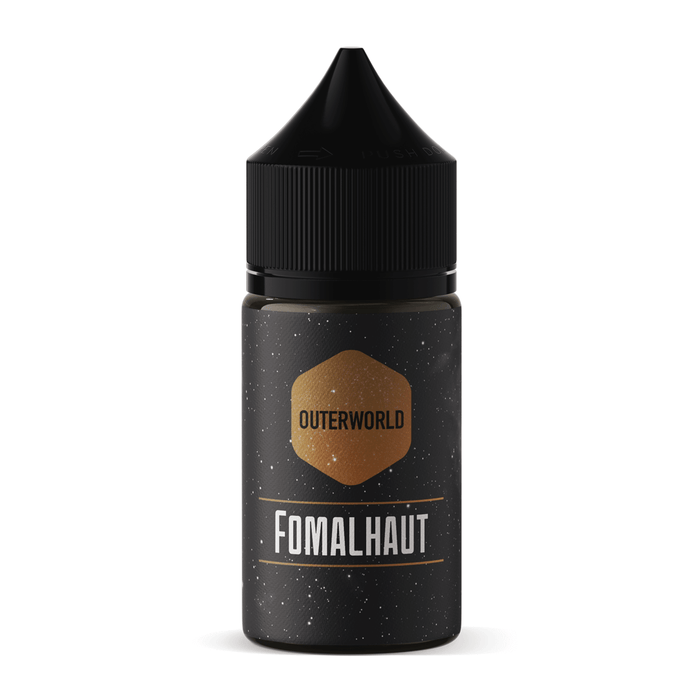 Outerworld Add Salts - Fomalhaut
Please log in to access wholesale prices.
If you don't have a Vape Traders account, please submit an application and we'll be in contact.
A steaming carafe of rich roasted coffee, sweetened with a touch of caramel.
Fomalhaut is a relatively young star, just 100 to 300 million years old. It's surrounded by a thick belt of fine dust, believed to be produced by the collision of more than 2,000 kilometre-sized comets per day. Scientists have found a planet orbiting Fomalhaut just outside the dust ring. Inhabitants of the planet are so overwhelmed by the sight of more than 2,000 comets smashing into each other every day that they have to start each morning with a pot of strong coffee just to make sure they're not still dreaming.
Note: Fomalhaut is not a sweet milky coffee blend, it's a strong, rich espresso with a dab of sweetness to round off the powerful coffee flavour. The longer you steep it, the more mellow the coffee will become.
Size: 15ml
Strength: Add Salts
VG/PG Ratio: 50/50
Ingredients: VG, PG, natural and artificial flavours. Contains no nicotine.
Outerworld Add Salts is a brand new variant of the original line: sorta like a doubler (15ml of liquid in a 30ml bottle) with the same great overall flavour, but optimised for your pod kit usage!
Here's a step by step guide:
Pop the top of your bottle off and add as much or little salty goodness in as you'll need.
Top up to the top line of the bottle with flavourless PG/VG if there's any room left
Seal top nozzle and screw cap back on
Give the bottle about ten seconds worth of shaking
Get to vaping!
Please note this is NOT a Ready to Vape product.
Product statement can be found here.