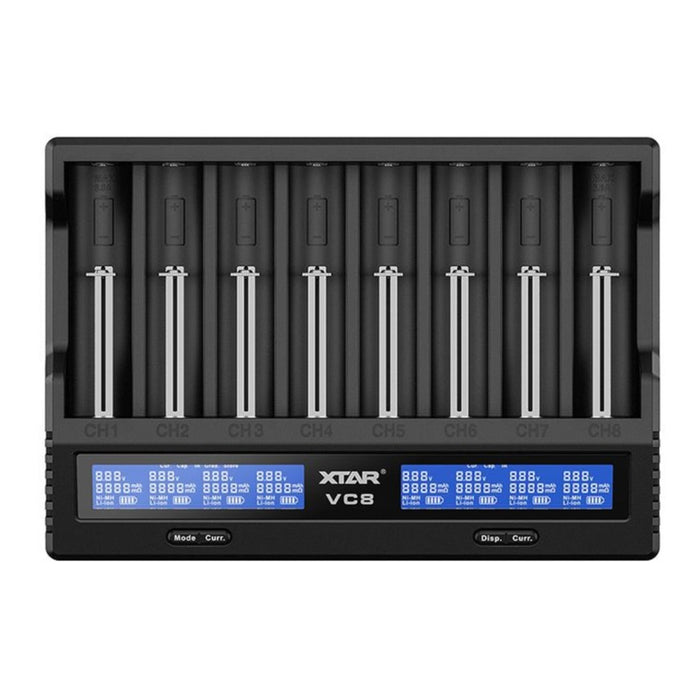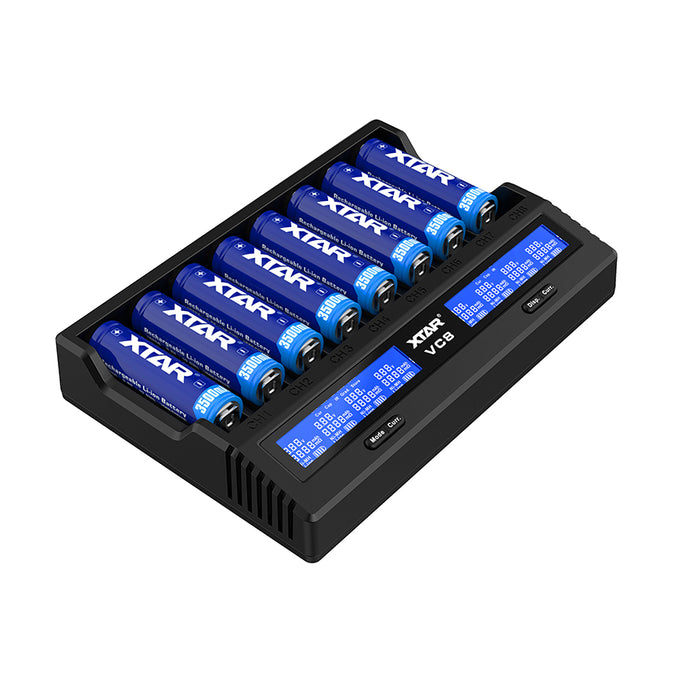 Xtar VC8 USB Battery Charger
Please log in to access wholesale prices.
If you don't have a Vape Traders account, please submit an application and we'll be in contact.
Xtar are a brand that have lead the charge on real high quality chargers and useful accessories, and they've never changed course after being founded in 2006. We're bringing back the best, because you deserve it!
The Xtar VC8 follows on from its brethren VC series, but gets a whole lot wider with capacity for eight, count 'em 8 batts at a time! That's with no skimping on the bay size, it takes a full cohort of 21700s easily. The VC8 is powered by the included Type-C cable, simply plug it into a fast charging USB port and you can charge at up to 3A (on a single cell)!
The VC8 can also test your batteries capacity, and even increase your batteries' lifespan in the first four bays if you choose those modes. The charger also detects your batteries type for optimal and safe charging including Ni-Mh and Ni-CD, can swap between charging currents and all the usual Xtar quality like recovery mode and excellent screen with all the detail you'll need.
The charger is constructed of tough and fire resistant ABS materials, and has overcharge, reverse polarity and short circuit protections. Keep it safe, silly.
Specs:
Input: USB Type-C QC3.0 (5V-2A / 9V-2A)
Current Selections: 3A x 1 bay / 2A x 2 bays / 1A x 4 bays / 0.5A x 8 bays
End-of Charge Voltage: 4.20±0.05V / 1.45±0.1V
End-of Charge Current: <120mA
Operating Temperature: 0 - 40° C
Compatible Batteries:

3.6V/3.7V Li-ion/IMR/INR/ICR: 10440, 14500, 14650, 16340, 17500, 17670, 18350, 18500, 18650, 18700, 20700, 21700, 22650, 25500, 26650
Can charge protected 20700/21700 batteries
1.2V NiMH/Ni-Cd: AAAA, AAA, AA, A, SC, C (make sure they are noted as rechargeable on the battery or packaging)

Large VA LCD screens shows real time charging stats
Battery testing and storing modes for maximum cell lifespan
Automatically detects battery type to charge safely
Soft start current and automatic shut-off to avoid damaging batteries
0V activation which may help recover over-discharged batteries
Reverse polarity, short circuit, overheat protections
Effective heat dissipating design and fire resistant ABS case
What's in the box:
1 x Xtar VC8 USB Powered Charger
1 x USB-A to USB-C Cable
User Manual