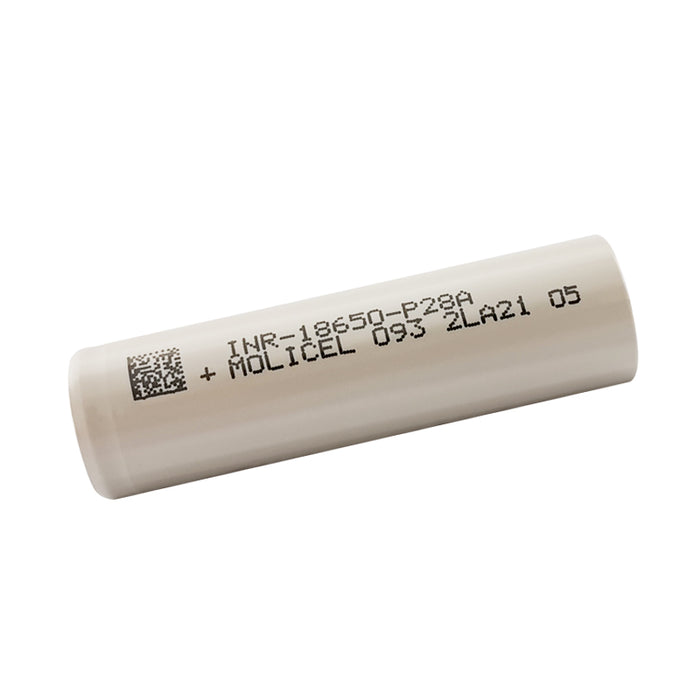 Molicel P28A 18650 Battery
Please log in to access wholesale prices.
If you don't have a Vape Traders account, please submit an application and we'll be in contact.
Molicel are for vaping, just ask them yourselves. They're into safe batteries for vapers, and the offering we have for you goes above and beyond not just in safety, but in capacity and performance well above many of the other widely available cells in the market. Read on for more info!
Specs:
Rated Capacity: 2.8Ah (Typical), 2.6Ah (Minimum)
Nominal Voltage: 3.6V
Internal Resistance: ≤ 20mΩ (measured by AC impedance at 1kHz)

End of Charge Voltage: 4.20±0.05V
End of Discharge Voltage: 2.5V
Charging Time: approximately 90 minutes
Maximum Charging Current: 2.8A (Standard), 6A (Maximum)
Maximum Discharging Current: 35A (this is NOT continuous)
Operating Temperature:

Charging: 0~60C
Discharging: -40~60C

Storage Temperature: <35C, recommended <23C for long term storage
What's in the box:

1 x Molicel P28A 18650 Battery